Photographing Jazz Legends
Those who love jazz indulge their passion in a variety of ways, including attending performances and buying albums. There have been so many iconic performances over the years, and perhaps you want to relive the best you've attended, or maybe you didn't have the opportunity to see your favorites in person. Either way, jazz music lovers alike would enjoy visual additions to their existing music collections. Mars Breslow, a fellow jazz lover, and photographer had the opportunity to attend numerous events and performances over the years representing Downbeat, Jazziz and Jazz Now magazines. This jazz photographer displays his passion for this musical art form with images that capture the essence of the artist in performance. Additionally, his images are iconic and meaningful, often capturing a little bit of history in each performance he attends.
Jazz Images in Prints, Posters, & Post Cards
Mars Breslow's jazz photographs provide visually distinct and meaningful images. One look at one of his photographs and you'll feel as if you had been at the performance yourself. During his career, Mars has photographed thousands of jazz greats in venues in the United States and Europe. You can purchase prints, posters, or postcards of this work for display in your home or office, or as gifts for fellow jazz lovers. A few of the legends Mars has photographed include Herbie Hancock, Wynton Marsalis, Dave Brubeck, and Chick Corea.
Recording Musical History with a Camera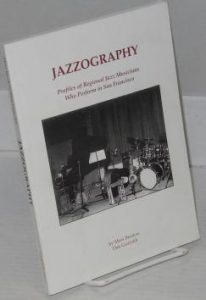 Mars has become a chronicler of jazz history with use of his camera. In 1999, he gathered 167 of the top jazz artists for a momentous photo on the steps of San Francisco's city hall. Another historic moment is his picture of Oscar Peterson's performance at Carnegie Hall. This picture and his review of the concert were published in the September 1999 issue of Jazz Now.
The history he records with his camera appears in magazines, exhibits, and on the walls of jazz clubs on the East and West coasts. He is the author of a book about jazz greats in the Bay Area, titled: Jazzography: Profiles of Regional Jazz Musicians Who Perform in San Francisco.
Contact Mars Breslow Jazz Photographs today to order prints of your favorite jazz artists. Based in San Francisco, California, Mars offers his services and products worldwide.